Guided Hike: River's Bend
April 12 @ 4:00 pm

-

7:00 pm

$5 – $15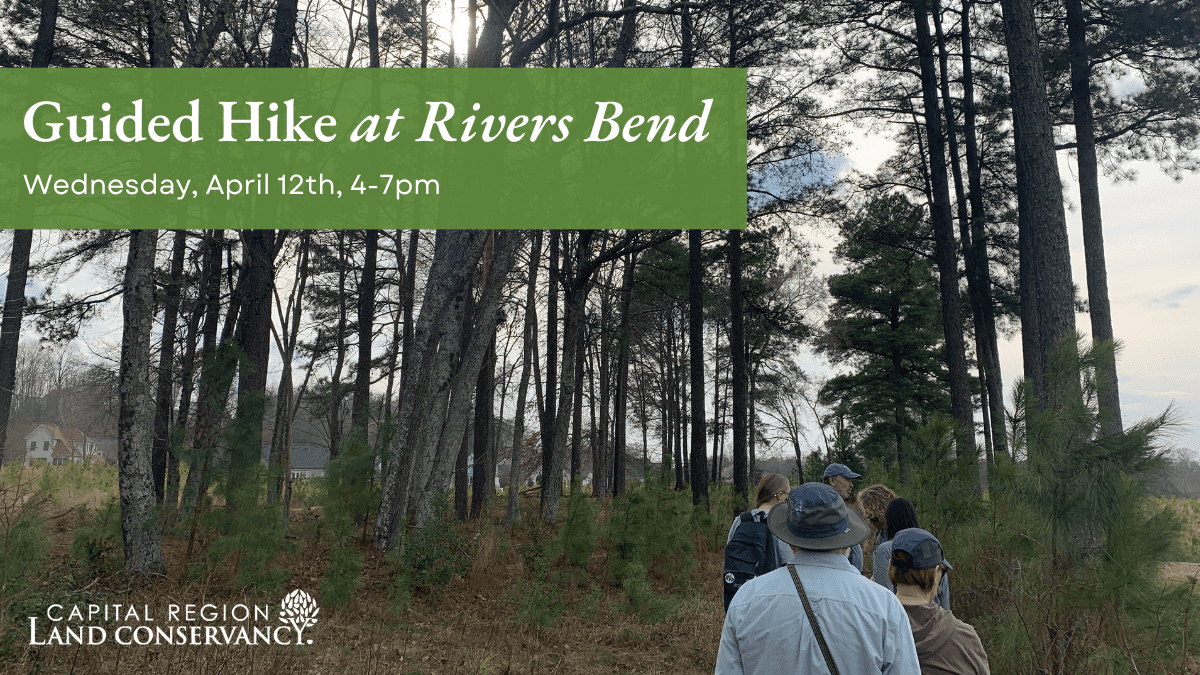 Join CRLC on April 12th to learn about the natural features of the River's Bend conservation easement and spot some spring peeper frogs through a guided hike led by Chesterfield County Naturalist, Mark Battista, and CRLC Land Conservation Manager, Jane Myers.
ABOUT THE AREA
River's Bend covers 180 acres of a former golf course turned natural area. The property contains over a mile of shoreline along the James River in Chesterfield County and has over 2 miles of trails that are open to public use. Over 85 acres of wetland habitat are protected under the easement, adding to the health of the James River and Chesapeake Bay watersheds.
While spring arrived much earlier than expected in Virginia this year, we hope to this visit to River's Bend will align well with Spring Peeper mating season. The Spring Peeper's call is one of the first true signs of spring in Virginia. Triggered by longer daylight and the first warm spells of the year, male spring peepers begin their "peeping"-like call to attract a female. The breeding typically occurs statewide from late February through June in wet meadows, roadside ditches, wet forests, and small spring pools. The River's Bend conservation easement is a spring peeper's paradise!
Want to improve your frog spotting skills ahead of the hike? Check out this recorded webinar from Virginia Tech on 5 frog calls you can learn to recognize by ear!
ABOUT THE HIKE
The hike will consist of an approximately 2-to-3-mile amble around the property. We will remain on the former cart paths, though the route could be muddy or uneven. Participants should wear comfortable, sturdy hiking shoes or boots and bring water and a light snack if desired. To ensure everyone's safety, headcount for all CRLC hikes is limited to 15 participants, not including our two guides.
DETAILS & TICKETS  
We will meet at a specified location near River's Bend a
t
 3:45pm
, departing promptly 
at 4:00pm
, and returning 
to the parking location by 7:00pm.
 Final details will be provided to participants once they have completed the liability waiver. The waiver will be emailed to participants after buying tickets, or you can access the waiver 
here
.
Tickets must be purchased to participate in guided hikes. Non-members must purchase a ticket of $15 and members a ticket of $5. Members include all donors of the last twelve months to CRLC. You can become a member by purchasing a non-member ticket or including an additional donation when you checkout.