A Place Protected for Environmental Education
On March 16, 2022, a collaboration between Capital Region Land Conservancy (CRLC), James River Association (JRA), and The Conservation Fund completed the transfer and protection of 0.85 acres of property on Dock Street. The transaction is a major step in the joint effort to achieve multiple conservation objectives: delivering environmental education, protecting the "View that Named Richmond" from Libby Hill Park, opening public access to the riverfront and allowing the Virginia Capital Trail to be rerouted off of a busy road.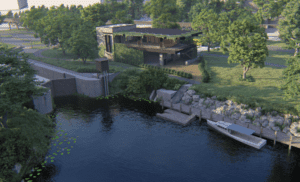 Since 1976, JRA has served as a voice for the river and over the past two decades developed an environmental education program serving over 12,000 students annually. The James River Association's future James River Center will offer local students on-the-river lessons utilizing canoes, kayaks, a 40-foot pontoon boat, and state of the art classrooms for ecology and environmental education. The river center in Richmond is one of three river centers that JRA is working to build in the Lynchburg, Richmond and Williamsburg regions.
The 0.85-acre property was purchased from The Conservation Fund, which still owns the remainder of the 5.2-acre vacant property on Dock Street. In August of 2021, The Conservation Fund assumed a contract on the property from CRLC. Once the remaining funding of $1.5 million is secured by CRLC to repay The Conservation Fund for the purchase, the rest of the property will transfer to the City of Richmond to become part of the James River Park System.
This conservation easement will ensure that public riverfront access on the property will be maintained and the scenic views of the river from Libby Hill Park will not be impaired while JRA brings their environmental education center to life. The scenic view from Libby Hill Park provides a glimpse back in time, connecting Richmonders to the history of this place and why we call the banks of the James River home. This conservation easement outlines specific limits to the height of any potential buildings and signs. In order to protect the nighttime view as well as the safe flight of bats and migratory birds over the James River, lighting on the property will be required to comply with dark sky standards like those of the International Dark Sky Association.
CRLC and JRA share the goal of protecting the health of the James River. Impervious surfaces, including buildings, paved parking areas, roads, and trails, create runoff and prevent rainwater from slowly filtering into the soil. This easement sets limitations to the total area of impervious surface on the property, allowing for a higher percentage of rainwater infiltration. With a requirement that only plants native to Virginia may be installed on the property, plantings will likely boost flood resilience and provide habitat and food for river-loving animals.