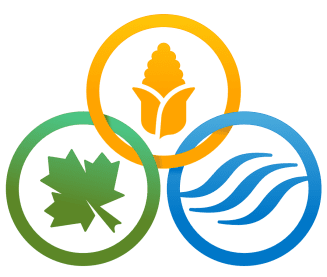 September 30th - October 16th, 2022
Capital Region Land Conservancy (CRLC) annual Conservation Games are a multi-week experience to celebrate and protect our region's natural and historic resources. Participants join teams (for free) with a specific conservation focus and try to earn as many points for that team before the end of the Games.
With local farms under threat from development, the need for parks and green space growing steadily, and our natural climate defenses disappearing rapidly, we need more conservation champions like you. The 2022 Conservation Games have ended. We hope you will join us in 2023!
Congratulations to Team Forests!
Team Forests was the big winner of the 2022 Conservation Games! It's no surprise these took gold since they were our largest ever team with 124 members this year! It just goes to show how strong our community's connection is to vibrant parks, urban tree canopy, and forested lands.
This year, Conservation Games participants raised over $17,000 for local land conservation, and that total grows to over $30,000 when we include the support of our many generous event sponsors! Thank you to all 280 participants and supporters for making an impact that will last year-round.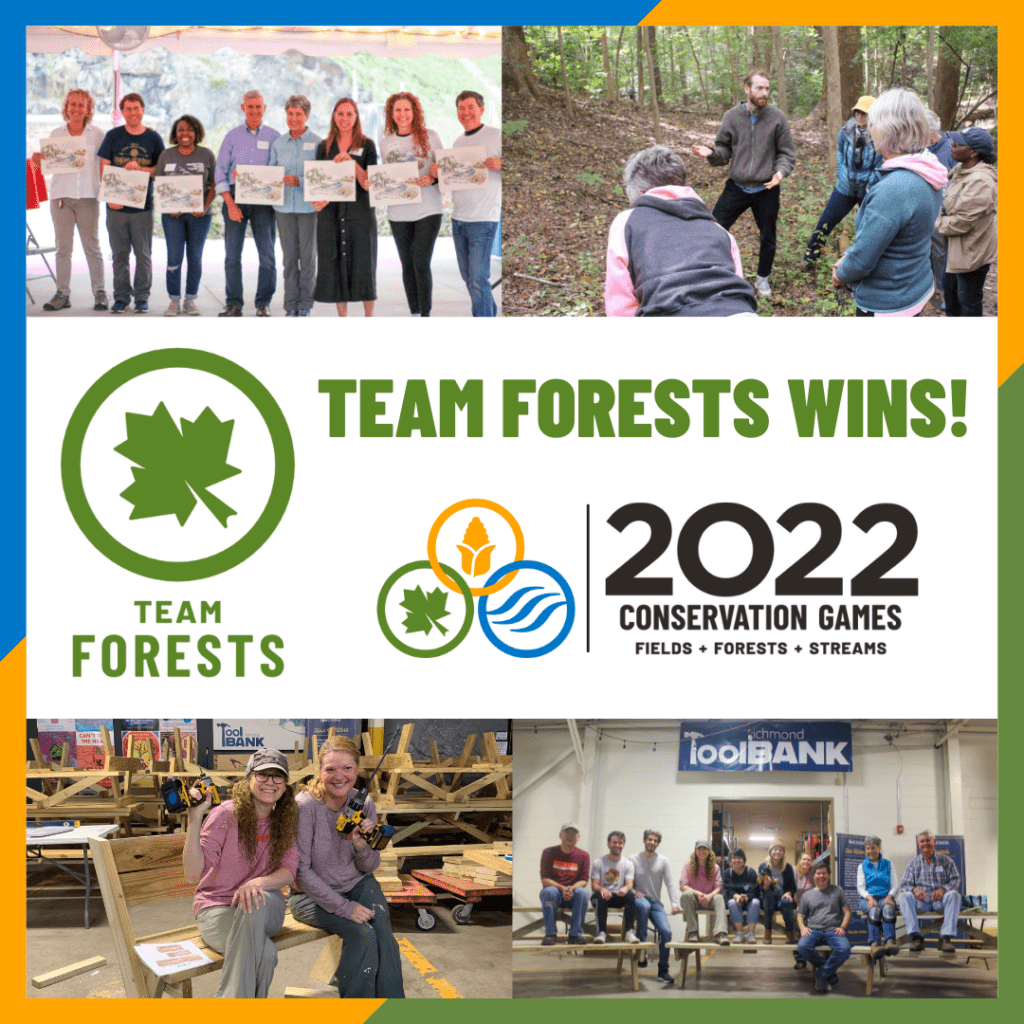 The Games begin with the Opening Ceremony on September 30th, 2022 and proceed for 17 days of competition until the Closing Ceremony on October 16th, 2022. Throughout the experience, participants can earn points for their team through online learning events, volunteer events, and fundraising campaigns. Whichever team has the most points at the end of the Games will be awarded the gold medal at the Closing Ceremony!
The Games support Capital Region Land Conservancy's (CRLC) essential work: protecting parks, forests, wetlands, streams, farmland, and historic battlefields. As the only non-profit land trust specifically serving the Richmond region, we need supporters like you to help us protect the lands we cherish and rely on. Put simply, together we can protect the places and land you love.
The point totals might be impressive, but the impact each participant has is a game changer. Last year, 260 participants gave a total of 350+ volunteer hours, spent 125 hours learning, and raised nearly $30,000 for land conservation. That outstanding effort has allowed CRLC to accomplish a lot in the last year, including:
Plant 2000+ native trees and shrubs and re-seed native wildflowers at a restoration site,
Transfer 370+ acres at Malvern Hill Farm to the National Park Service,
Protect or purchase another 120+ acres for 4 future parks!
That's 4 new parks for our community to connect with nature, learn about our region's history, and build a climate resilient future. Can you image an area the size of 90 football fields all protected for local wildlife habitat and outdoor recreation? Soon you won't just have to imagine it. You'll be able to hike, picnic, bird watch, kayak, and explore these places with your friends and family.
Our Conservation-Minded Teams

Team Fields is competing to support the protection of our region's wide open lands, including farms, parks, historic sites, battlefields, trails, gardens, wild grasslands, and all the creatures that depend on them!
We have seen too many local farms turned into sprawling development. Healthy food is too hard to come by, especially in communities that need it most. Our local grasslands and the birds and bees that depend on them need our help. Historic battlefields are being lost and forgotten. It doesn't have to be this way. If you help us win, you will ensure a brighter future for our community.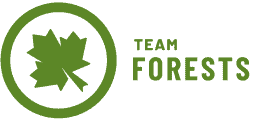 Team Forests is competing to support the protection of our region's forests and woodland habitats, places that nurture us, provide for us, and provide for all the local plants and animals that call them home!
Forests are our home in nature, from the setting of childhood adventures, to refreshing breaks from our hectic lives. Team Forests supports projects that send more roots into the ground to clean our water and more branches into the sky to clean our air, while expanding park access so more communities can call forests home. Join us to plant seeds to keep the next generation cool and save these critical resources for the future.

Team Streams is competing to support the protection of our region's waterways and riparian habitats, including aquifers, wetlands, streams, rivers, the Chesapeake Bay, and all its wildlife!
Healthy waterways fight climate change with us. Riverfront parks, forested buffers, and wetlands slow and absorb flood waters. During calm weather, these same places provide parks for people, habitat for local wildlife, and capture carbon! To bring nature on-board with the climate fight, we need to double up on land protection and stream restoration. Join Team Streams, get your hands dirty, and give today to join the fight.
The 2022 Conservation Games have ended. Look out for future opportunities to hike, volunteer, learn, and celebrate with CRLC on our Events Calendar!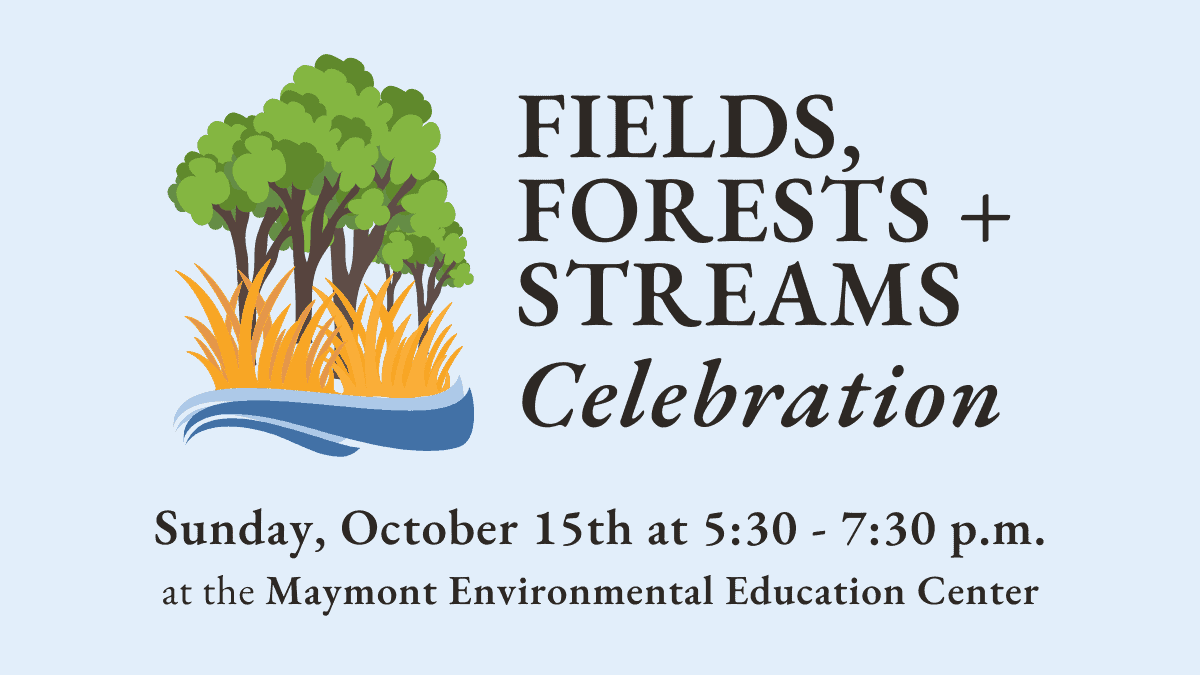 Maymont Environmental Education Center
2201 Shields Lake Drive, Richmond, VA, United States
Fields, Forests + Streams brings together our growing conservation community to celebrate the places and land we love. Join us for a fun evening at Maymont!
Looking for other ways to get involved? Check out our list of more than 15 Community Events going on during the games. Print our Pocket Conservationist Guide to complete with kids. Or find other self-guided actions to make conservation your own!
These events have past.
| Event Name | Date & Time | Host organization | Event Sign-Up |
| --- | --- | --- | --- |
| National Public Lands Day | Saturday, September 24 | Self-guided | LINK |
| Ancarrow's Landing Habitat Restoration | Friday, September 30, 10:00 am – 1:00 pm | James River Park System | LINK |
| Broad Rock Farmers Market Volunteers | Saturday, October 1, 7:00 am – 1:00 pm | Eden's Garden, Second Baptist Church (Southside) | LINK |
| Bellemeade Outdoor Learning Campus Cleanup | Saturday, October 1, 9:00 am – 12:00 pm | Friends of Bellemeade Park | LINK |
| Capital Trail Clean-Up | Saturday, October 1, | Virginia Capital Trail Foundation | LINK |
| The Wetlands Habitat Restoration | Saturday, October 1, 10:00 am – 1:00 pm | James River Park System | LINK |
| Assist adults with disabilities in recreational activities (Mechanicsville, VA) | Tuesday, October 4, 9:45 am – 12:30 pm | Hanover County Parks and Recreation | LINK |
| Feast of St. Francis, Blessing of the Animals | Tuesday, October 4, 10:00 am | Drexell Morrell Center | TBA |
| ToolBank General Warehouse and Tool Maintenance | Wednesday, October 5, 9:00 am – 1:00 pm | Richmond Community ToolBank | LINK |
| Reedy Creek Habitat Restoration | Wednesday, October 5, 3:00 pm – 5:00pm | James River Park System | LINK |
| Urban Gardening with a Twist of FUN | Thursday, October 6, 8:30 am – 11:00 am | Eden's Garden, Second Baptist Church (Southside) | LINK |
| "Think Globally, Act Locally" with Doug Tallamy and Gary Tabor | Wednesday, October 12, 3:00 pm – 4:00 pm | National Park Service | LINK |
| Walk in the Carillon Woods with 500YFF + CRLC | Saturday, October 8, 10:00 am – 12:00 pm | 500 Year Forest Foundation | TBA |
| Forest Healing through Movement & Art | Saturday, October 8, 9:30 am – 1:00 pm | Pine Camp Cultural Arts Center | LINK |
| Shockoe Hill Cemetery Walking Tour | Saturday, October 8, 10:00 am – 11:30 am | The Valentine Museum | LINK |
| Freedom on the Capital Trail – History Walk | Monday, October 10, 10:00 am – 11:30 am | The Valentine Museum | LINK |
| Arbor Day RVA Tree Planting Prep Party | Thursday, October 13, 10:00 am – 1:00 pm | Richmond Community ToolBank | LINK |
| "Our Heritage, Our Planet" Film Week | October 11 – October 14 – Event Series | Hispanic Access Foundation | LINK |
Download the Pocket Conservationist Guide specially made for the 2022 Conservation Games! This family-friendly activity involves crafting, learning, and getting outdoors!
Print out the guide at home, watch the video below to learn how to fold this mini book, and start of your conservation side quest!
Looking to earn extra points on your own? Integrate conservation into your life with self-guided actions. Here are some suggested activities that you can go out and do on your own. Organize a group to multiply the impact!
Conservation Games T-shirts!
Proudly wear your support for the work CRLC does best: Protect the Land You Love! Your purchase will count as a donation to CRLC!
These soft, eco-friendly t-shirts were designed by Richmond artist Katie McBride and highlight the stunning landscapes we protect. Find the size and style that suits you while knowing your order is helping us protect land for parks, farms, battlefields, and wildlife habitat across the region.
Why This Matters
The Conservation Games is an adaptation from Capital Region Land Conservancy's former "Fields, Forests, + Streams" annual event which brought CRLC staff, board members, and supporters together to celebrate the year's accomplishments. When COVID-19 make this event impossible in 2020, CRLC took this event virtual, adding educational webinars and self-guided volunteer actions to build out an entirely new event. While Fields, Forests + Streams successfully raised $14,000 in 2019, our first Conservation Games in 2020 raised $18,000 and raised another $30,000 for local conservation in 2021.
The Games leave an impact. Participants walk away with knowledge about local conservation issues and how we can work together. Our volunteers have collectively spent 500 hundred hours and:
Harvested vegetables at an Shalom Farms to provide local food
Removed invasive plants at the James River Park to free trees and make room for native plants
Cleaned up hundreds of pounds of trash over many weekends to boost stream health at Bryan Park
Built picnic tables with the Richmond ToolBank for local parks
Planted 30 trees at the Science Museum of Virginia to help cool and shade a local greenway
Thanks to the generosity of our donors, sponsors, volunteers, and community partners, we have been able to accomplish a lot for conservation and public access to the outdoors since the first Conservation Games.
In fact, in 2020 we protected 177 acres of land—an area equal to about 134 football fields—and took ownership of another 51 acres. That's over 200 acres of forests, wetlands, and riverfront that will clean our rivers and provide much needed habitat for amphibians, reptiles, birds, and aquatic life for generations to come.
In 2021, CRLC completed 7 land conservation protects totaling more than $10 million in value including the purchase of 5 acres in downtown Richmond for a future park at Dock Street and education center for the James River Association as well as 38 acres along the Appomattox River in Chesterfield County, Colonial Heights and Petersburg.
In 2022, we have already protected another property for a future environmental education center on the James River and another 50 acres at Ware Bottom Church Battlefield Park; purchased 42 acres at Campbell's Bridge Mills on the Appomattox River for a future public park, trail, and wildlife corridor; and accepted a generous donation of 28 acres at New Market Heights Battlefield for historic preservation—and all three projects guarantee future public access to the outdoors!
With your support, this conservation legacy will continue. So let the games begin!
To become a sponsor, please contact Parker Agelasto at (202) 302-0153 or email parker@capitalregionland.org.
Thank You To Our 2022 Sponsors!